WATER JET CUTTING SERVICES
If you are searching for "water jet cutting", "waterjet services", "abrasive water jet machining", "water jet machining", "abrasive jet machining", "water jet cutter near me" or "water jet cutting near me" in Phoenix or Chandler, East Valley Precision can help! East Valley Precision offers precision water jet cutting services for all types of industries including architecture, aerospace and more. Our New OMAX 55100 Water Jet cutting machine will cut Virtually any Material and Hardness with an Accuracy and Repeatability of + / – 0.003 Inches!
Our New OMAX 55100 Water Jet Cutting Machine will cut Virtually any Material and Hardness with an Accuracy and Repeatability of + / – 0.003 Inches!

Cutting Envelope – 100" X 55" | Material Thickness – up to 10" + | Programmable Motorized Z Axis. Learn more about the OMAX 55100
File Formats
DXF
DWG
IGES
STEP
SLDPRT
Parasolid
SAT
X_T
STP
… And Many More!
Industries
Semiconductor
Medical
Entertainment
Aerospace
Industrial Manufacturing
Military & Defense
Signage Manufacturers
Food Processing Equipment
Architectural
Pharmaceutical
Healthcare
Automotive
Solar & Renewable Energy
Military
Glass
Tile
Materials
Aluminum
Bronze
Carbon Fiber
Ceramic
Copper
Fiberglass
Hastalloy
Inconel
Mild Steel
Molybdenum
Nickel Alloys
Phenolic
Plastic
Rubber
Stainless Steel
Stone
Tantalum
Titanium
Tool Steel
Tungsten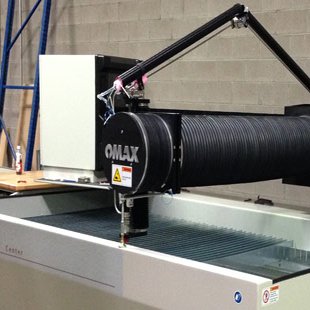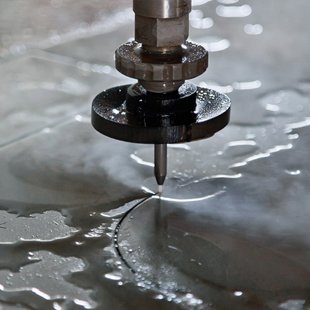 Benefits & Features of our Water Jet Cutting Machine – The OMAX 55100

Best precision and fastest cutting speeds compared to every abrasive water jet cutting machine in the industry
Accurate and robust design for reliable operation and tight tolerance cutting
Precision ball screws and pre-loaded linear bearings
Sealed drive system against grit, dirt and water
Minimal fixturing and no tool changes dramatically reduce setup
Machines a large variety of thicknesses and materials, from composites and metals to plastics and glass.
Reduces secondary options by leaving behind smooth edge
Does not create mechanical stresses or heat-affected zones
No noxious oils, liquid or fumes caused by, or used in, the machining process
Low electrical consumption when compared to other pump technology
High efficiency pump available in 100hp, 50hp, 40hp or 30hp w/ operating efficiencies up to 85%
Uses less cooling water than hydraulic intensifier pumps
What Is a Water Jet or Water Jet Cutting?

A water jet (also known as waterjet or water jet cutter) is an industrial tool used to cut a wide variety of materials with high pressured jets of water. Water-only cutting refers to water jet cutting without the use of abrasives. Water-only cutting is typically used on softer materials like rubber or wood.
What Is Abrasive Water Jet Machining?

Abrasive Jet Machining (AJM) or micro-abrasive blasting can be used to cut a variety of materials such as steel, titanium, fiberglass, ceramic and more. A granular abrasive is added to increase the water jet's cutting power. Due to the abrasive being added at the nozzle, it allows us to switch between abrasive waterjet or water only cutting.
Water Jet Cutting Process

Water jet cutting begins with the intensifier pump creating high pressure water (up to 90,000psi) needed for cutting harder materials like metal. The pump utilizes a hydraulic pressure over water system. A large motor drives the pump, creating pressure which powers the piston into a cylinder.
Water input. The low pressure water input pulls water through a high pressure tube
Boost pump. Pumps the water
Inlet filter. The water is forced through the inlet water filter
Inlet check valves. Then the water is forced through the inlet check valves into the intensifier
Pressure. The hydraulic pump pressurizes the fluid and switches between the 2 sides of the piston. The pressure is created with the hydraulic piston which also creates pressure on the water in the intensifier. The pressure is maximized by the larger cylinder pushing a small piston into a water filled cylinder.
Accumulator. Then the high pressured water flows into the accumulator. The accumulator smoothes out any pressure ripples.
Cutting head. The water then flows through the high pressure tubing into the cutting head; The off valve controls the flow of water in the cutting head. this allows the CNC machine to stop and start the process at the right time.
Orifice. The pressurized water is applied to an orifice (defines & creates water streams used to cut through material). The water is mixed with abrasive as it exits the orifice for cutting harder materials.
Abrasive. The garnet abrasive is mixed with the water inside the mixing chamber. The flow of abrasive can be controlled by using the abrasive metering system. When cutting hard material the abrasive is what actually does the cutting.
Learn more about the water jet cutting process.
Water Jet Cutting Machine Working Principle

The working principle of a water jet cutting machine is very similar the principle of erosion. When a jet of water (shot at high velocity) strikes material, material removal takes place. Water jet only cutting is used to cut softer materials like rubber or foam. Abrasive jet machining (AJM) is used to cut harder materials like metal.
Applications Of Water Jet Machining

Water jets have the ability to cut most materials and thickness'. The applications of water jet machining include:
Aerospace Applications
Titanium bodies in military aircrafts
Engine parts (heat-resistant alloys, titanium, aluminum)
Body parts made out of aluminum
Cabin panels in the interior of the aircraft
Architectural & Art Applications
Sign letters in plastics, brass, aluminum, steel, glass, marble, etc.
Outdoor metal artwork at them park, museum, etc.
Stained glass cutting for Church Mosaics, crafts, lamp shades, etc.
Kitchen counter-tops, murals, border tiles, etc.
Automotive Applications
Copper head gaskets
Custom motorcycle bodies
Interior trim (door panels, instrument panels, trunk liners, carpet, headliners)
Fiberglass components (under-hood, firewall, insulation, etc.
Bumpers
Truck bed liners
Specialty brake disks
Specialty clutch components
Glass Applications
Bathroom and kitchen splash backs
Bullet-proof, optical and laminated glass
To cut glass used in medical and electronic industries
Wall inlay, table top inlay, flooring inlay
To cut lens blanks from quartz and glass
To cut space shuttle glass panels
To cut replacement auto glass for classic cars
Stained glass
Gaskets Applications
Aircraft, motorcycle, small engine, marine and automotive
Teflon, copper, metal, laminated (metal/fiberglass)
Corkboard, rubber
Graphite and stainless laminates
Food Processing Applications
Cake/snack products
Vegetable slicing (mushrooms, celery, etc.)
Meat processing (chicken strips, chicken nuggets, frozen fish, etc)
Electronics Applications
Cable stripping
Circuit boards (unpopulated & populated)
Custom and short run control panels and electrical enclosures
Elevator control panels
Portable generator components
Medical Applications
Using special steel alloys to blank out surgical instruments
Using carbon fiber to cut artificial limb components
Manufacturing orthopedic appliances and carbon braces
Dividers for holding medical instruments
Stone Applications
For making custom border tiles
Wall and flood inlays
Vanity and kitchen bench tops
Customized stepping stones
Motel floors
OVER 40 YEARS OF INDUSTRY EXPERIENCE